Never tried adzuki beans? This yummy bowl is the perfect way to use them. And don't worry, if you can't find adzuki beans, black beans work here too.
Hi, my name is Jeanine, and I've been an Instagram addict from the beginning. I love seeing what's going in on other people's lives, what they're making, and most of all drooling over delicious looking food that I want to eat right through the screen.
Someone who I've loved following is Lindsay Maitland Hunt while she was working on her cookbook Healthyish. It felt like I would always see her photos right before lunch or a few hours before dinner, and I'd just salivate. Her food looks not only so delicious, but it's also the kind of approachable, real life, I-can-make-that-too, kind of food that I always want to have right in front of me at any time of day. So, needless to say, I'm so excited to talk about (and cook from) her book! If you're not familiar with Lindsay's work, she was an editor and recipe developer at Real Simple Magazine and Buzzfeed. She's created recipes for everyone from college students to busy families to seasoned home cooks.
At the beginning of the book she talks about her Healthyish balanced approach to eating which I totally relate to – "I've oscillated between extremes my entire life, whether it was eating a greasy grilled cheese or eating a boring bowl of steamed vegetables. But seesawing between the two isn't how you achieve balance. Healthyish is eating a big, hearty bowl of food that doesn't leave you feeling weighed down. Food that makes you feel good, and not sad."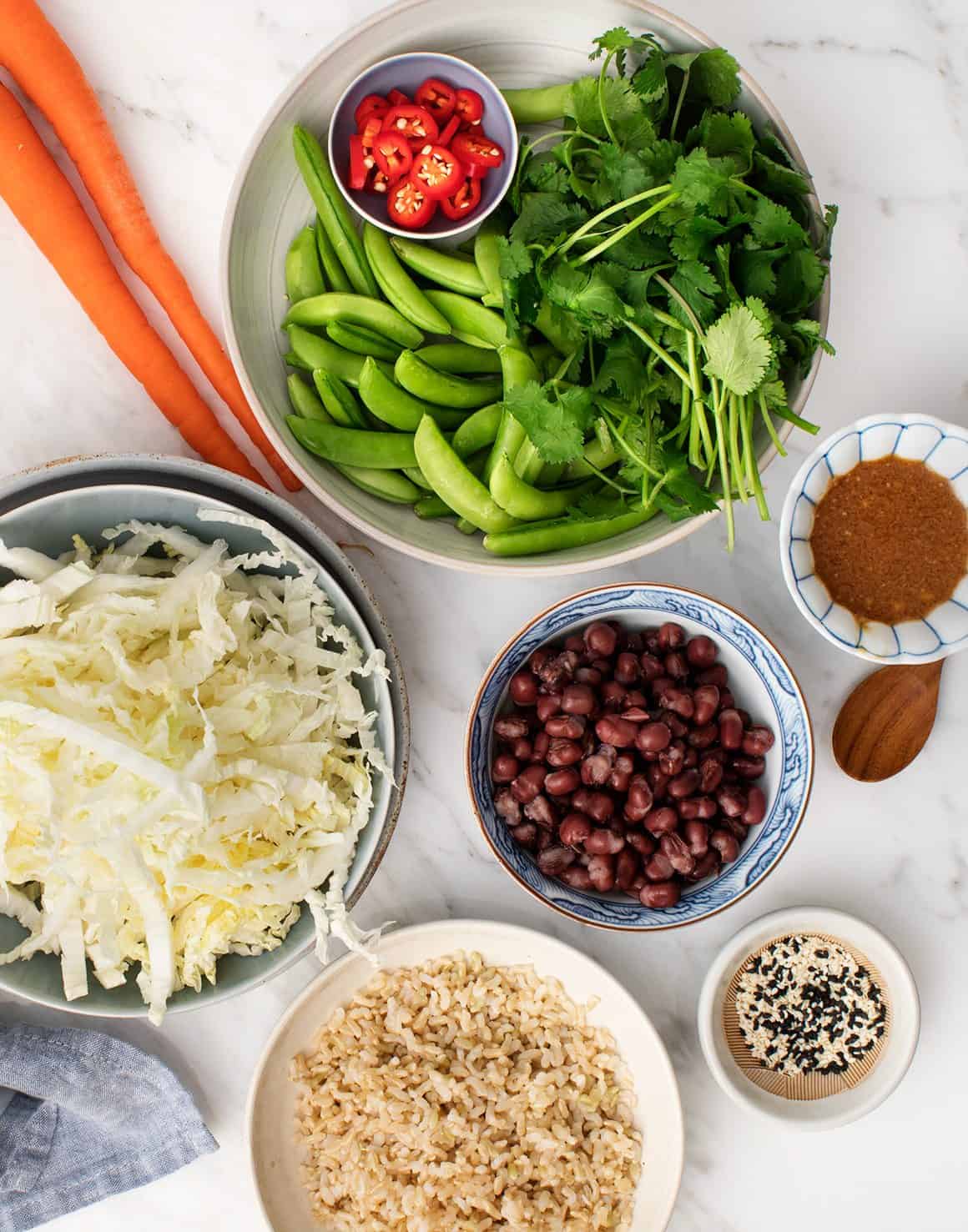 The recipes are a mix of really-healthy and mostly-healthy recipes, hence the name. The book is not entirely vegetarian but there are SO MANY vegetarian recipes, especially in the section that's titled Vegetarian Dinners. I have my eye on the Linguine with Trumpet Mushroom "Scallops" and the Smoky Cauliflower and Onion Frittata.
And now… about these healthy bowls with adzuki beans!
We made these Adzuki Bean Bowls the other night (very healthy without the "ish"), and they are simply delicious. You start by tossing together a simple napa cabbage, snap pea, and carrot slaw and piling it over adzuki beans and brown rice. Then, drizzle a yummy sesame miso dressing over the whole thing. It's hearty yet light, crunchy, and so so delicious. I just love bowls like this!
If you can't find adzuki beans, black beans sub in well here. And if you want to switch around your rice – try cauliflower rice!
You can buy the Healthyish Cookbook here, I hope you love it as much as I do!
If you love these bowls with adzuki beans…
Try this one with quinoa + sweet potato, this one with black beans and mango, or this noodle bowl!
Brown Rice and Adzuki Bean Bowls from Healthy-ish
This recipe comes from
Healthyish
by Lindsay Maitland Hunt and is reprinted with permission from the publisher.
Ingredients
½ large Napa cabbage head, sliced (6½ cups)
3 small carrots, shaved with a vegetable peeler
1 cup sugar snap peas, sliced
2 tablespoons sesame seeds, more for serving
½ cup Toasted Sesame and Miso Dressing (below)
1 cup short-grain brown rice, rinsed
sea salt
2 tablespoons chopped fresh cilantro leaves, more for serving
1 can adzuki or small read beans, rinsed
2 avocados, sliced
1 small fresh red chile, sliced
Toasted Sesame and Miso Dressing (makes 1 cup, you will have extra)
¼ cup white miso
⅓ cup rice vinegar
¼ cup canola oil (I used olive oil)
¼ cup low-sodium soy sauce (I used tamari)
1 tablespoon toasted sesame oil
Instructions
Bring a large pot of water to a boil. While it comes to a boil, mix the cabbage, carrots, snap peas, and sesame seeds in a large bowl with ¼ cup of the dressing. Use your hands to make sure everything gets evenly coated, or use a spatula. Set aside and toss occasionally.
Once the water is boiling, add the rice and 1 tablespoon salt. Reduce to a simmer and cook until the rice is just tender, 22 to 26 minutes. Drain.
Just before serving, fold the cilantro in the cabbage salad. Divid the rice, cabbage salad, beans, and avocados among four bowls. Drizzle with the remaining ¼ cup dressing, and sprinkle with the chile and more cilantro and sesame seeds, if you like.
Notes
Use any remaining dressing for a salad for another day, it's delicious!