Hands down, this sesame crispy tofu is one of my favorite tofu recipes. Nutty, savory & sweet, it's a healthy dinner that comes together in a flash.
If you've been afraid to try making tofu recipes, don't be! You're gonna love this one. 🙂
Way back when I was a regular non-blogging person in search of healthy recipes, one of my go-to sites was Skinnytaste. I didn't know what a blog was, but I loved Gina's recipes – they were easy to prepare & light, yet full of flavor. I've had the pleasure of meeting her a few times over the last few years, and each time, I fan-girl out a bit :).
Recently, her newest book, the The Skinnytaste Air Fryer Cookbook, launched, but that's not all – she came out with her own Air Fryer appliance as well! Admittedly, I've been skeptical about the air fryer craze, but I was excited to try her air fryer because it came so highly recommended. Over the last few weeks, Jack and I have had fun experimenting with everything from crispy cauliflower to panko-crusted mushrooms. We also made this crispy tofu recipe from her book multiple times. It's nutty, savory, crisp, and delicious – one of my new favorite tofu recipes! If you have an air fryer, I highly recommend you try this recipe. If you don't, not to worry! There are instructions for baking the tofu in the oven as well.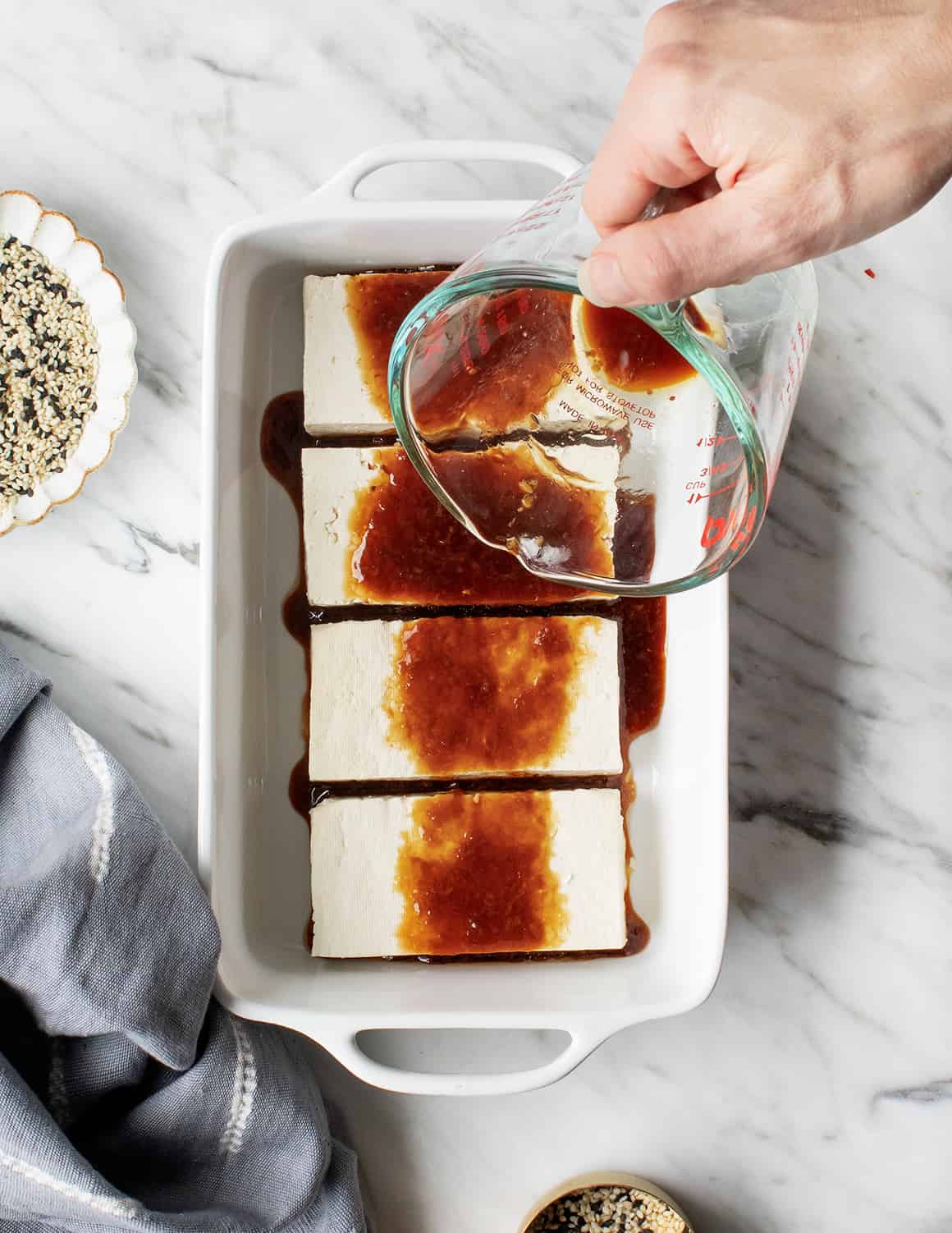 What is tofu, anyway?
Tofu is a high-protein soy-based food that's made from curdling soy milk and forming it into a solid block. It's a good source of plant-based protein that can be used in many different preparations. Even if you're a meat eater, I urge you to try it. In my tofu recipes, I don't use it as a meat substitute, but rather as something delicious in its own right to be seasoned and transformed into flavorful dishes like this one!
How to Cook Tofu
Tofu can get a bad rap as a meat substitute, but it's actually an incredibly versatile ingredient. When blended, it has a great creamy texture – you can use it in a vegan mousse or pudding, and it's essential for making a creamy ricotta substitute in my lasagna or vegan stuffed shells. Most often, I bake it to add protein and hearty texture to bowls, noodles, or salads.
It's easy to work with, but there are a few things you should know before jumping into making tofu recipes. Here are my best tips on how to cook tofu:
Make sure you select the right texture. In the store, tofu ranges from silken to extra-firm. Soft silken tofu would be my choice for blending into desserts or slicing into miso soup, but if you're serving tofu as a main dish or topping it onto bowls, you're going to want to select extra-firm. It has a heartier, denser texture and less water content than other varieties.
Press it. Tofu contains a lot of water, and you'll want to squeeze most of it out, especially if you're baking, grilling, or frying it. Tofu presses are available in stores, but having one isn't necessary. You can press your tofu under a stack of books, or just do what I do, and use your hands to press it lightly in a kitchen towel. (Just make sure not to push too hard, or the tofu will crumble!)
Spice. It. Up. There's a reason that tofu gets a bad rap, and that's because it's pretty bland on its own. Make sure you season it well, and the best way to do so is with a good tofu marinade.

Tofu Marinade Ingredients
In a flavorful marinade, tofu acts like a sponge, soaking up whatever flavors you add to it. The marinade in this recipe is savory, tangy, and a little sweet. It's easy to whisk together and makes this recipe really tasty. Here's what's in it:
Soy sauce, for salty, savory flavor
Rice vinegar, for brightness
Sesame oil, for richness and its toasty, nutty taste
Ginger and garlic, for freshness
Brown sugar, for a sweet counterpoint to the other tangy, salty ingredients
Gina's recipe recommends marinating your tofu for at least an hour or overnight, but (shhh!!!) I only let mine sit for about 20 minutes, and it came out delicious. Of course, the longer you marinate it, the more flavorful it will be. Make sure to choose a relatively small dish for your marinade so that all the sides & pieces of tofu can get well coated.
About this Crispy Tofu Recipe
Unlike any of the crispy tofu recipes I've tried, this one uses the air fryer. We love how quickly it makes a crispy coating for the tofu – you cook the pieces for just 5 minutes on each side, and they come out perfectly golden & crisp. If you don't have an air fryer, you can also make it in a regular oven – see the instructions in the recipe below.
And I forgot to mention, the best part of this recipe is the crunchy layer of sesame seeds on the outside of each tofu piece. After it marinates, you lightly dip each slice of tofu into a bowl of beaten egg and then sprinkle it liberally with black and white sesame seeds. I love their nutty flavor, and they add great texture to this dish.
This tofu recipe would be a great choice for a healthy, protein-rich weeknight dinner. To make it a full meal, I served the tofu over a bed of cilantro lime rice (cauliflower rice would be great too!) with steamed snap peas and edamame. We loved it – the combination was simple, yet fun & refreshing.
Looking for more tofu recipes?
Try it in tacos, miso soup, summer rolls, a banh mi, or even lasagna!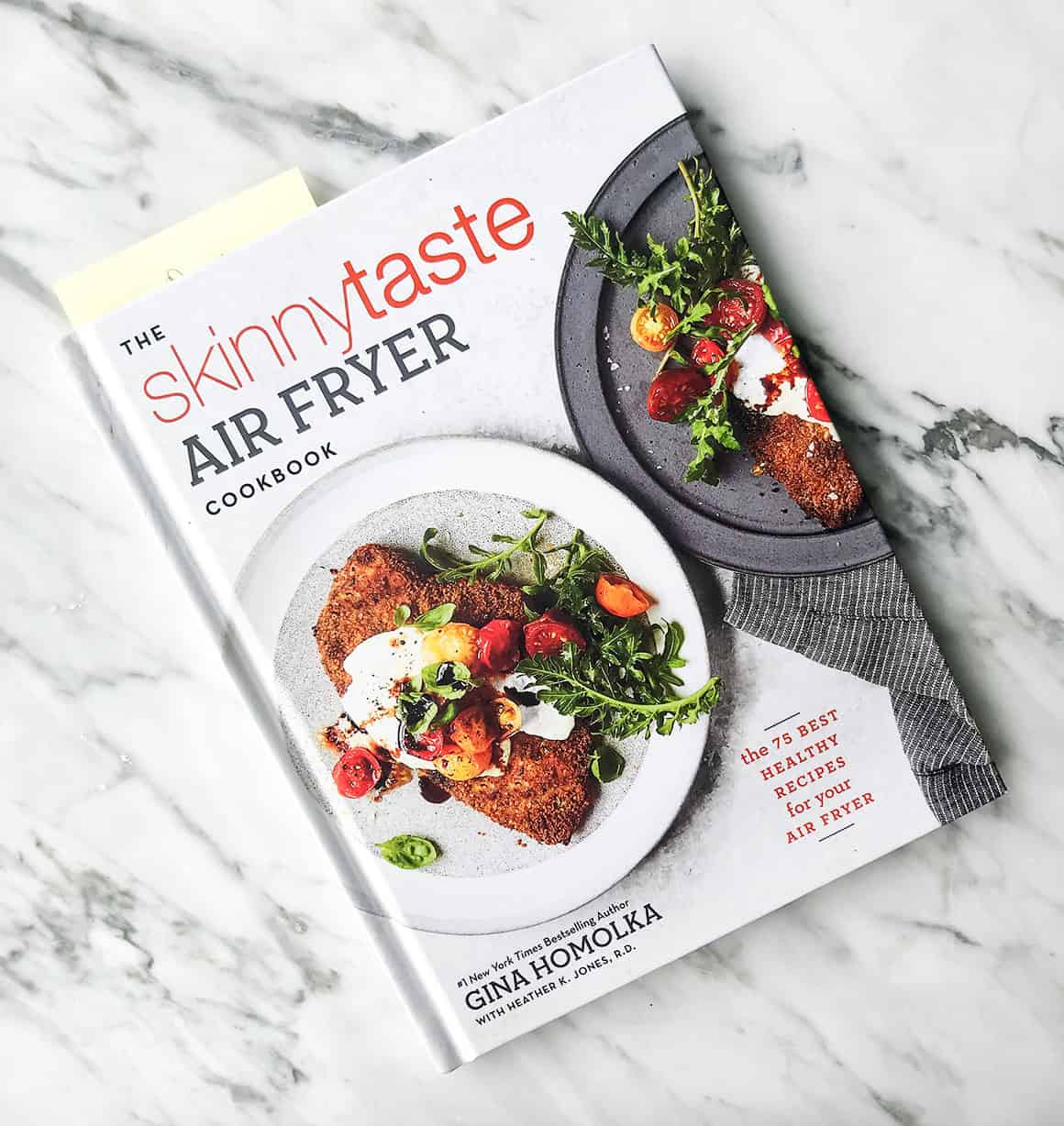 For more air fryer recipes, check out The Skinnytaste Air Fryer Cookbook! I also highly recommend the Skinnytaste Air Fryer.
This recipe serves 2 – double it to serve more.
For more easy dinner ideas, check out this post!
Sesame Crispy Tofu
Ingredients
7 ounces extra-firm tofu, drained and cut into 4 (1/2-inch thick) slices
2 tablespoons tamari
1 teaspoon toasted sesame oil
1 teaspoon rice vinegar
1 teaspoon light brown sugar
1 garlic clove, grated
½ teaspoon grated fresh ginger
⅓ cup white and black sesame seeds
1 egg
olive oil spray
Sriracha mayo
4 teaspoons mayonnaise
1 teaspoon Sriracha sauce
For serving
1 cup snap peas, steamed and chopped
⅓ cup frozen edamame, steamed
1 scallion, chopped
tamari, for drizzling
Instructions
Place the tofu slices on a kitchen towel or paper towels. Place another towel on top and lightly press to remove most of the water from the tofu. Transfer to a shallow dish big enough for the tofu to lie in a single layer.
In a small bowl, whisk together the soy sauce, sesame oil, vinegar, brown sugar, garlic, and ginger. Drizzle half of the marinade over the tofu, then gently flip and drizzle the rest on the other side. Marinate in the refrigerator for 20 minutes to 1 hour.
Preheat an air fryer to 400°F or preheat a regular oven to 350°F.
Place the sesame seeds on a small plate. In a small bowl, beat the egg. Remove each tofu slice from the marinade, allowing the excess to drip off, then dip in the egg. Using a fork, dip in the sesame seeds, coating each side. Transfer to a plate. Spray one side with olive oil, then gently flip and spray the other side. (Discard the excess marinade.)
To make the tofu in an air fryer: Working in batches, arrange a single layer of the tofu in the air fryer basket. Cook for about 10 minutes, flipping halfway, until toasted and crisp.
To bake the tofu in the oven: Place the tofu on a parchment-lined baking sheet and bake 30 minutes, flipping halfway through.
Make the sriracha mayo. In a small bowl, mix together the mayo and sriracha.
Serve the tofu steaks with rice, snap peas, edamame, scallions, sriracha mayo, and tamari, for drizzling.
Notes
Make this recipe vegan by omitting the egg. The crispy coating doesn't come out quite as thick, but we found the tofu to be crispy and delicious, nonetheless.